By saitok on Nov 22, 2011 in Japan
I want to share the things that Japanese people often use in their social life.  Of course we use many things that are the same that you use in your country.  This time, I will tell you about three things: Japanese cell phones, trains, and vending machines.
*Japanese cell phone
One of the most necessary things for social life in Japan is a Cell Phone!  There are three main cell phone companies in Japan: Docomo, AU and Softbank.   And they try to get users by offering several discount plans like family discount, student discount, to have free calling time, etc…  So we have to think about which plan is good for us.  Otherwise, we will get into paying a lot more than we used.  You can check out Japanese cell phone models on the company sites below.
http://kakaku.com/keitai/docomo/ranking_3141/
http://www.au.kddi.com/seihin/pr/11fall/index.html?cid=30286
http://onlineshop.mb.softbank.jp/ols/html/
Japanese cell phones usually don't have a SIM card inside.   When we get a cell phone, we will get a cell number with that phone.  Then we have to make an e-mail address for the cell phone.  When I was a college student, my friends from other countries were always using computers to chat with their friends even though they have a cell phone.  I felt a little weird, because cell phones are used more than computers as a contacting tool with someone.  The cell phone is the main tool to contact with someone for Japanese people.
Japanese cell phones have multiple functions.  Of course it depends on the cell phone what type of cell phone you want.  We can call, send E-mail, watch TV, read story, pay for things (at shops and for train fare), use internet, listen to music, play game, check train time schedule, and so on…   Some parents give it to their child as a safety measure.
Now days,  it is hard to live without a cell phone.  If one forgot to take one's cell phone, one will be uncomfortable all day.  You can see how much Japanese people need cell phone every time and everywhere with the picture below.  Most people are using cell phones in the train.
However, we can't make phone calls and have to set it to silent mode in the train.  Also, we can't use cell phone near the priority seats (seats designated for older and handicapped individuals).
*Train
Most Japanese use the train when they are going to school, company, meet your friends, etc…   Let's check out how to take the train!
Most of the stations in Tokyo have machines at the ticket gate instead of a person.
The train will come once every 15 minutes on average. (In the country side, every 30 minutes.  In the city, every 5 minutes.)  So we don't need to wait for a long time.  The train is a very convenient form of transportation.  But a problem is that it's very complicated to get the correct train.  There are many lines,  especially at big stations.
And, if it is possible, you should avoid taking the train at rush hours which is around 7~9am and 5~8pm.  These times are like the picture below.  I am sure you will get stressed!!
at rush hour
*Vending Machine
When you go to Japan, you can find many vending machines on the street, in the stations, or in front of restaurants.
Tickets                                                        Drinks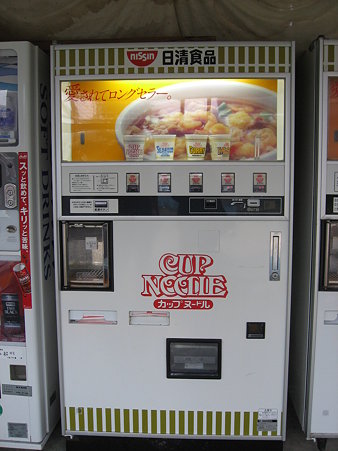 Ice cream                                                        Noodles
Actually, we can get many things on the street.  This sounds a little weird, but it's good!!
There are many convenient machines in Japan like I have presented this time.  On the other hand, we have less communication between people.  While communication with people is harder than with a machine, we need to consider how can we keep a good balance and live together with machines without losing our communication skills.