By dwuesche on Apr 8, 2014 in Germany
Whenever somebody asks me what I miss most about home (except my family and friends) I tell them it is food. I LOVE German food and there is no way I could go without it for a longer period of time! Before you start reading, you should keep in mind that

– like in every country- different regions have different foods, therefore, I will speak mainly from my own experience in the area called Franconia, situated in the North of Bavaria.


German bread
I will just start with breakfast and work my way chronologically through a day. German breakfast is different than what most people eat in the U.S. Of course, there are also many people in Germany who skip breakfast or have it on their way to work, but for a lot of Germans breakfast is their favorite meal of the day. However, since we don't have time every day to celebrate our awesome breakfast as much as we'd like, we usually just have bread (which is different from American bread) with honey, jam, Nutella, cheese, or Wurst (similar to deli meat). On weekends or when we have friends over for breakfast (especially then), we like to go all out on our breakfast. It looks a lot like this:
So we again have different kinds of bread, cheese and Wurst, and Nutella, honey and jams. As drinks we also have coffee, tea or Kaba (hot chocholate) and sometimes orange juice (I prefer it freshly pressed).
For a lot of Germans breakfast and lunch are the bigger meals of the day, and depending on what your job is you have different options for lunch. Some people who live close to their work place go back to their homes to make food, especially when they have kids. Others just go out to restaurants and have lunch with their co-workers. It really depends on each person and whether you live in a bigger city or in a more rural area. I, myself, usually eat at home or at the Mensa (cafeteria in the University) which offers a different menu each week with fresh and very affordable food. I really miss it!
For dinner we often don't have warm meals, but have the so called 'Brotzeit' (direct translation: bread time). We usually eat bread, Wurst, cheese and pickled vegetables with that meal, which can look like this:
Of course, everybody thinks that we eat a lot of Bratwurst and Sauerkraut and Schnitzel in Germany. Just like we have the stereotype that all Americans eat burgers and hotdogs all day – which of course is as much true as the stereotype you have about us. Bratwurst and Sauerkraut would be – at least in my family – a typical meal for a Saturday lunch, because it is quick and easy to make, and on Saturdays many Germans do a lot of garden work and other little tasks around the house. It is also a nice snack at parties or sport events. Once again because it is easy to prepare, and you can just put it in a roll and eat it with your hands.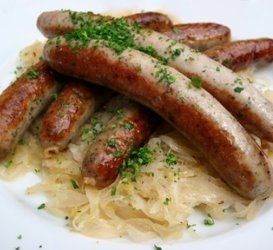 On Sunday, however, we (and by that I again mean my family) eat the traditional German meals which usually take a lot of time to prepare. Some traditional meals would be duck, pork shoulder (= Schäufele), or pork/beef roast with potato dumpling and red cabbage. Another of my favorites is the so called Fränkisches Hochzeitsessen (= Franconian Wedding meal) which is beef with noodles and horseradish sauce.
In my area a lot of people also still get together on Sundays (and sometimes during the week) in the afternoon to have coffee and homemade cake. This is also very common for birthday celebrations.
A very common dessert is Apfelstrudel with vanilla sauce or ice cream with warm raspberry sauce.
Another thing that doesn't meet the stereotype is that we eat fries a lot, which is more associated with France or Belgium. It is very common to serve Schnitzel or Bratwurst with French fries.
Döner Kebab is also very, very popular in Germany which is a Turkish snack that looks like this:
It is usually lamb or chicken meat with garlic sauce and veggies.
Italian food is also quite popular and it is sometimes easier to find a decent Italian restaurant than a good German restaurant.
We also have some dishes that are seasonal or served for certain events. An example would be Zwiebelplootz (= onion 'cake') which is more like bread with onions on top which we eat in the fall accompanied by a special wine product called Federweißer.
As I have said, different regions are known for different types of food. Hamburg, being a harbor city, of course has a lot of fish. Berlin is probably best known for the Currywurst which is a Bratwurst with a special tomato sauce.
In the north west they eat more green than white or red cabbage. A traditional dish would look like this: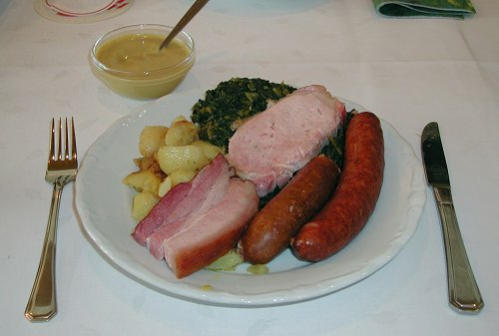 This is just a small overview about German food. Even in my region there are more traditional meals that I could tell you about, but I think this will do for a start 😉
I don't know about you guys, but I am quite hungry now! 😉