By kfakhour on Dec 6, 2013 in Uncategorized
Why did you decide to study abroad with American University of Sharjah?
Read about Keith's study abroad experience in Sharjah!
Keith: While deciding upon potential universities, the one aspect of the American University of Sharjah that captivated me was its appearance, gorgeous architecture and a breathtaking campus. The institution was founded by the Ruler of Sharjah and AUS President, Sheikh Sultan bin Mohamed Al-Qasimi, who grew it to be the top ranked school in the Gulf with the best professors in the world and the host of international engagements such as the MENA Economic Forum. As if these weren't reasons enough, AUS was a stone toss away from Dubai, the international economic and entertainment hub that was always a vacation favorite of mine.
Tell us about an experience you had that you could not have had at home.
Keith: Experiencing the tallest building in the world, Burj Khalifa, on New Year's Eve was the greatest, and logistically worst, experience during my year abroad. Several Friends had dinner at Dubai Mall, the world's largest mall, which was unbelievably packed. Then, from a friend's apartment at the Index Tower, we watched Burj Khalifa host thousands of fireworks. What an unbelievable sight! As beautiful as it was, the night quickly turned into a logistical nightmare as more than 5,000 people were bound for the metro system. It was hours waiting in line with inpatient people and cranky police officers with rifles. It was very intense at the time, but I personally grew from trying to survive that night and I relish the opportunity to talk about that escapade.
Describe your program socially and academically.
Keith: The social and academic aspects of my program were equally awesome and overwhelming. Most of my professors were superstar academics and professionals from Europe and America, included the former head trader at JPMorgan Germany, a partner at KPMG Netherlands, and other illustrious figures. Professors, like students, come from all four corners of the map. UAE is home to many professional expats and many of them send their kids to AUS, creating the most flavorful melting pot and social situation. In addition, every class had fewer than 15 students, making every session especially intimate and engaging.
The campus is bustling with dozens of student clubs, from the Emirati Cultural Club to the Entrepreneurship Club, giving the student body endless opportunities to network and connect with our peers. The biggest event on campus, Annual Global Days, provided a platform for various groups to showcase themselves and their homeland. Despite being entirely Jordanian, I was a member of the Emirati and Pakistani Club and performed their traditional dance at the event and had the most memorable of times. Overall, my time at AUS was a social paradise: constant desert parties, never-ending chai karak tea breaks, the most diverse melting pot of potential friends, and the Dubai nightlife.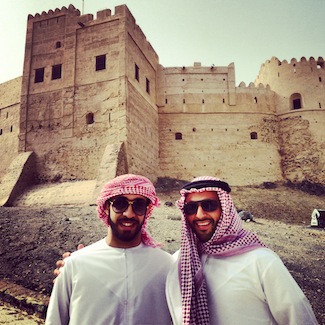 Keith at Fujairah Fort with the Sheikh!
Describe your favorite must-have food that you tried abroad.
Keith: My must-have international food is Biryani. I first had it at Gazebo, a popular chain across the UAE. Initially, I was disappointed because it looked like a plain pot of seasoned rice. Dig in a little deeper and you'll strike tender chicken or beef and feel like an Emirati who struck oil in the desert. Usually served with a side of salad and zesty sauce, it a dish I've always look forward to. I would eat it every day if it weren't for those meddling carbs.
Tell us about any interesting cultural tidbits you noticed about your country.
Keith: Respect in the UAE is like tax in the US — everywhere and significant. Within the dialogue between Arabs, you'll find an overwhelming amount of praising and complimenting between the individuals. However, that was taken to another level when I heard my Emirati friends speaking with their fathers. It sounded like they were speaking to the ruler of their Emirate! There was enormous respect present. It inspired me in my own relationships with my family. Cheetahs and tigers are common domesticated pets. Seeing a tiger on a leash as if it was an American household cat was startling! The parking lot at AUS was like an international auto show. I've never seen so many so many Maserati's, Range Rovers, R8's, and Ferraris in my life.